i have some big news,
to be fair,
it is probably only big to me,
but whatever!
check back later for another post today!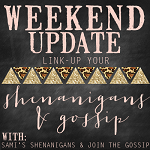 guys! what an amazing week [and weekend of course!]
I hate it when my birthday is over though...
so for today, I have decided to pretend like its not over.
ready for a recap? yay! I love a photo flashback.
friday
I had birthday dinner at Kona Grill with Breanna, Sharon, & my mom.
it was a really fun [and expensive] time. we should do it more often.
just so you guys know. Breanna took a picture of me getting my eyebrows waxed,
I asked her not to take my picture, she did it anyway, then she posted it on the internet.
that would be my explanation for posting the very last photo, sorry B!
btw, don't my eyebrows look amazing? the lady said I have a great arch...
which, did you remember, is on the 29th? it is coming so fast... eeeek!
saturday
I went and had birthday dinner at my dads house.
it was a nice surprise that my grandparents were there too.
I ended up getting a really nice candle holder [picture to come]
Aaron and I took all three children [three is too many] to a Christmas concert [at church].
after all the stuff that happened at Sandy Hook on Friday I just wanted to spend time with them.
seriously... these children are crazy.
we had the kids until around 3PM yesterday [sunday]
which was definitely long enough!
I was ready for a drink and a break after all that excitement.
which is exactly what I did with the rest of my weekend.

tomorrow I will be taking part in the blogger day of silence, and you hope that you will too.