hey! look at that, its Tuesday again. I wanted Aaron to do this post...
I thought it might be interesting. ya know, to hear what is ticking him off.
but of course, a week was not enough time to convince him.
I will keep working on it! I really think it would be entertaining.
so here are some things ticking me off: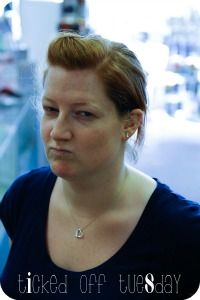 the damn dentist. ohmygodiabsolutelyhatethedentist I recently got a new hygienist and the bitch hurts my teeth. I think I need pain medication, for real.
being tired at all times... like there is absolutely no need for me to be tired right now. wtf bro
this beautiful Bubby is the biggest whiner you will ever know. it is on the verge of unbelievable. however, it is sadly true. she doesn't really bark at all, and I can count the number of times she has growled on one hand. but crying? good god, it's like she never quits bitching!
when people don't immediately respond to my many attempts of contact. I text, I call, I email. sure that might make me appear crazy.. but if people would just respond the first time there would be no need for multiple attempts and different kinds. seriously, I just want to be top priority to all.. is that so much to ask? nope. didn't think so... kidding of course.
vacuuming. did you know that you have to vacuum/dust your blinds, walls, and ceilings? well I didn't. until today that is. now I know because I spent 8 hours working on cleaning one room in my house. and honestly, it looks the same to me. wtf.
alright. I'm finished..
that was more than enough bitching.
today, I plan to tackle another room.
spring cleaning mood strikes whenever it wants!
so I'll see ya tomorrow
XXO Amanda