so original I know, but can we all agree, squats are used for torture.
it is Tuesday again and I have actually done pretty much nothing...
three day weekend anyone? if Aaron is around I cannot be productive.
wow, ADD but oh my gosh! today is my 150th post!!
thanks for sticking around, and HELLO to anyone new
[giveaways are made for new friends]

yesterday, as many of you already know, I took Kalie to the vet.
it turns out that she has a sprained tail.
what does this mean to me? it means I have to babysit her.
no running, no excitement, no wagging, no being herself basically.
yeah. right. I think we can all imagine how that is going to play out.
so far, it's totally going great.... at least she loves taking medicine.
anywho, lets get on with today's post!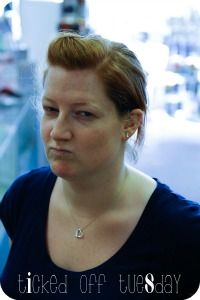 here is what I'm ticked off about today:
exams! boo I am currently blogging and taking an accounting exam. way to multitask.
sick puppies. all she does is sleep. I feel terrible for her!
best friends going away from the week. whatthefudgeamisupposedtodowithmyselfffffff
garbage day being delayed for presidents day. sure wish I hadn't missed last week...
and... thats it! I must go finish my exam.
have a great tuesday my ladies.
and don't miss all the giveaways that I am involved in this week.
check my twitter for the deets!
XXO Amanda