do you guys know what ratchet even means these days?
it is crazy. it means so many different things! it's great.
so, that's what I learned yesterday...
as I am sure you are aware, it is Tuesday. Ticked Off Tuesday to be exact.
I was extremely excited to see that Andrea also realized that it was Tuesday.
I guess it is about time that I get down to my writing my own Tuesday post.
here are a couple of things that have been rubbing me the wrong way: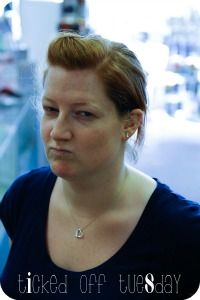 shoveling, yard work, annoying children doing anything that makes noise at an inappropriate time of morning. the snow will still be there after nine, and there is no need to dance on the ice [or even speak to one another] in front of my house on your way to the school bus. pipe the fuck down!

t

aking the garbage out.

disgusting. I hate touching the can, the bags, anything, its just gross. and in the summer? gag. the smell of hot garbage has to be god torturing us for sure.

baking

. I think some people have it, and some people don't. I can make a delicious meal with random anything that I find in the kitchen. but I tired to make cupcakes from a box last week and I screwed it up. baking takes far too much precision and patience. I "ain't got time for that".
three things.. that is all I have for you.
I'm in a pretty awesome mood this week.
tomorrow I am posting my 26 in 26 update.
Thursday is a great day for blogging and life!
Valentines Day, I know you are jazzed.
it's going to be a great week, so be happy.
have a wonderful FAT TUESDAY
XXO Amanda