alright, so something sick just happened to me.
i am ready to just get down to this Tuesday post.
no fancy intros this week because i am truly ticked!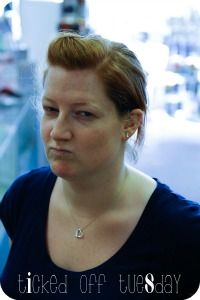 this week I am ticked off because...
a half gallon of $4 milk exploded in my damn fridge while I was gone this weekend! making it worse, I called my grandma on Friday to have her stop by and pick up some hamburger that I left in the fridge... she didn't. milk and old ass hamburger getting cleaned out of my fridge at 11AM
my ankle is killing me! the weather is supposed to be crappy but warm today. I desperately want to go for a run outdoors and I can barely walk. Cool ankle, real cool.
I have no money... uh join the club? am I right. I just want to buy and shop and do me. not sure if you are aware, "doing me" is an expensive habit. I need financial support!! [

just realized how dramatic I am. my life is good and I have everything I need.. just not everything I want ;)

]
I have been home for less than 24 hours and my house is a disaster. it's not fair people... as an unemployed girl I want to be lazy. a messy house and a fat ass are not conducive to me not doing anything all day everyday... [

again with the dramatics? god Amanda, pull it together!

]
the Hansel & Gretel movie.
alright, I'm done now..
hope you guys are having a less stressful day.
see you tomorrow!
XXO Amanda